Richie Kidwell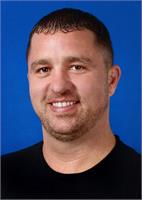 Certified Core Integrated Alignment Yoga Instructor, Studio Co-Owner, Advisory Board Member
Richie Kidwell, co-owner of Sweetwater Yoga & Fitness, has both private and group fitness experience to include Yoga, Pilates Reformer, Bootcamp classes, TRX suspension, and personal training.
Richie enjoys all the different styles of movement, but Yoga is his favorite. "It keeps me grounded and self aware. It also keeps my core strong, my joints stable, and reduces tension both physically and mentally," says Richie. He continues to grow both his personal and teaching practice under our Core Integrated Alignment Yoga Mentorship program. Anyone who has been to Richies classes agrees... he cultivates a a fun and challenging energy with a priority on mindful movement and anatomical alignment, accessible to all levels of practitioners. Oh... and let's not forget... he loves handstands!
Richie Kidwell instructs the following:
This super fun, alignment based Fit-Camp is for the wellness prospect wanting to tackle their fitness and weight loss challenges. All classes are 60 minutes and will be taught with no equipment. PLEASE BRING YOUR TENNIS SHOES. All shapes, ages, and sizes welcome. Increase muscle tone, strength and flexibility. Improve coordination, circulation, and core stability.




Warm Yoga Flow is designed to utilize the warmth of heating elements in the room in addition to the heat created by the breath to achieve deep pliability of the musculature system to create space and detoxify the body of impurities by squeezing and soaking the organs and generating an abundance of sweat.