Heather Kennedy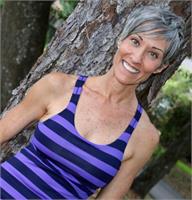 Certified Core Integrated Alignment Yoga Instructor, Senior Student/Teacher Mentor, Community Manager & Customer Service Coordinator, Assistant to Fit Piglet's Team Freshitarian
I had been practicing yoga for about 3 years when I walked into Sweetwater Yoga & Fitness and instantly fell in love! The community was so warm and inviting and the yoga felt good on my achy body. I love it so much and am excited to share this brand of yoga with the Sweetwater and Parkside communities. Im not sure where this path is leading me, but the life changing experiences and devoted and uplifting friendships I've found here have encouraged me in ways that are unexplainable. I can't wait to share space with you! See you in class!
Heather Kennedy instructs the following:
A great class for beginners, those experiencing physical limitations, body aches, chronic pain — and anyone interested in exploring a gentle practice. This class includes basic breathing exercises, as well as a variety of foundational postures (standing, seated, and on the floor).




Enjoy a contemporary version of Core Integrated Alignment Yoga sequencing. Instruction is innovative and fun with a therapeutic influence and deeply connected intention. Lengthen and strengthen the body; stimulate and clarify your mind; unite and enliven your spirit.




This Foundational Flow yoga practice is accessible to all levels and is ideal for anyone looking for a little revitalization. The sequences focuses on poses that will help you unwind such as hip openers, gentle lunges and twists.




This 50 minutes class will stretch your hips, work your core, and relieve tension in your shoulders. This class geared specifically toward the mature body, those with physical limitations, and/or those looking to improve their overall sense of well-being. *Note: This practice is done with the support of the chair, either seated or standing. There is no getting up and down off the floor.*




Warm Yoga Flow is designed to utilize the warmth of heating elements in the room in addition to the heat created by the breath to achieve deep pliability of the musculature system to create space and detoxify the body of impurities by squeezing and soaking the organs and generating an abundance of sweat.




A technique based, workshop style flow class for both the apprentice yogi and the novice; focusing on effective breath work, alignment and actions of the body, and simple meditation. All ages, fitness levels, shapes and sizes welcome!